Azelea Contessa Benson is a
fairy
, her alignment is with the
Kellwood
version of the
Seelie Court
, making her a "good" fairy. However, her many attempts to steal another girl's boyfriend and her crazy attitude may make people think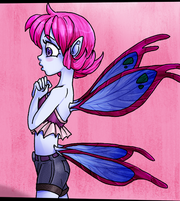 otherwise! She has blue and magenta wings with green eyespots on the top pair. Her skin has a blue tint, and two spots of pink on her face, which is a common trait of "common" fay folk in Kellwood.

Azelea was first introduced in the comic when she found Zeno alone in the woods and weeping. She attempted to comfort him, and suddenly without warning she was full-out hitting on him out of nowhere! She even offered to bump off Mye to make Zeno feel better. At first it seemed her infatuation with Zeno was that he was a cute, cuddly-looking wooby and she wanted to adopt him as her snuggle toy, but it turns out that she got a whiff of his "destiny" and a glimpse of a pretty-boy "older Zeno" in the reflection of his scythe.
It turned out that Azelea had been formerly associated with then-new to the cabin Kavonn, and was similarly "infatuated" with him for quite some time. Kavonn warned Zeno against indulging her, stating that fairies like her are just attracted to guys with large... magical artifacts. He was half right, at least!
Azelea is conniving and a bit on the jealous side. She can be very caring if the occasion calls for it and sometimes regrets things that she does. She's a real go-getter, and doesn't see Mye as much of a challenge despite the fact that she's trying to stay low-key about her attempts to steal away Zeno. She attempted to employ the help of Zeno's friend Tony, whom she knows has a thing for Mye, to help her break the two up. She also views Zeno's mental breakdown and the subsequent straining effect it has had on Zeno and Mye's relationship as a good thing for her, since she does not mind his craziness all that much.
Has made a toadie out of "Fairy Princess" Fay, indulging what she views as her delusions in order to get what she wants from her. Is currently on the outs with her after calling her a "clumsy ox" at the party, and Fay in turn sneering at the idea of being attracted to Zeno.